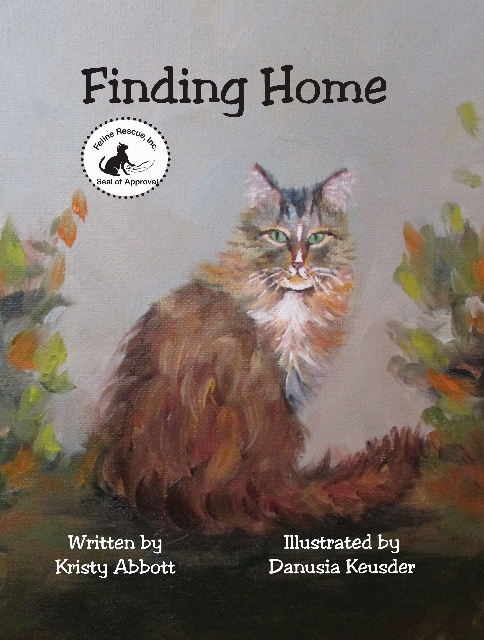 Finding Home
In December 2009, a lost and bedraggled cat was picked up on a remote, snowy road in Buffalo, Minnesota. Soon thereafter, he was adopted and started a new chapter in his life.
Finding Home is based on the true story of this nameless, wandering cat that found his way into the arms of a loving family and through the process discovered his forever home and the name he carries today.
This book by Kristy Abbott and illustrator Danusia Keusder appeals to animal lovers young and old and shares the uplifting theme of second chances for lucky creatures.
Reviews for Finding Home:
"This is such a great story. with so many animals in shelters and homeless, it is so nice to know that one cat got very, very lucky. The illustrations by Danusia Keusder are perfect for describing this kitty on his journey. You'll love the one in the bath!!!"
"This was a wonderful, heartwarming book for kids and adults alike! Being based on actual events was even better. This book helps bring to mind the importance of animal rescue! The illustrations were also beautifully done! I am looking forward to reading more about the amazing Simon!"
"We liked this beautiful book so much that we purchased one for each of our nephews and nieces. They had fun reading and looking at it. Great for kids."
"This is a lovely story about what we all need - a place to call home. The illustrations are gorgeous!"
"I love the illustrations on this book. They are beautiful. it's also a sweet and simple story about a young boy and his love for a stray cat. Kinda similar to The Ugly Duckling, only brought up to the 21st century."
The Ghosted Bridge
The Ghosted Bridge is a ghost story set against the backdrop of mystical Sedona, Arizona, and the real life disaster of Minnesota's I-35W bridge collapse on August 1, 2007.
Katherine Simon is fed up with her life. The economic downturn of the past few years cost her husband his job and is chipping away at her sanity. Now Katherine is desperate to know what the next chapter holds.
Madison Morgan is a Sedona psychic making her living offering a look into the future for the hundreds of clients who come through her door as a part of their spiritual sojourns. When the two meet for a reading one cold day, neither can imagine what will happen when a mysterious ghost overtakes Madison's life to save Katherine from a tragedy no one could predict.
The Ghosted Bridge gives a glimpse into the mesmerizing world of psychic what-ifs as it follows Madison's attempt to decipher a pattern of supernatural clues, Katherine's struggle to overcome life's challenges and the ghost's desperate bid to stop Katherine from driving onto the bridge at 6:01 p.m. on a fated summer evening.
Reviews for The Ghosted Bridge:
"I enjoy reading stories about the paranormal, mostly ghosts and spirit entities. This book was a page turner dealing with a psychic and the ghost who contacted her while doing a reading for a customer.
"I loved the interesting characters in this book and the story has great twists and turns. The author was kind enough to come to our book club meeting and directed us in some great discussions. I highly recommend this book."
"Kristy Abbott is an amazing story teller! Her words drip into you like melted butter on a hot day. It's the kind of story that makes you stay up late at night to keep on reading but then slow down your reading near the last part of the book because you can't stand to come to the end! You have to read this amazing book. But don't lend it out! You will want to pick it up for a reread soon! I just ordered one for my sister! This book earned a book mark rather than dog-ears. I don't want to wear it out too soon! Read it!"
"Living in Sedona I especially enjoyed this book. I heard Madison on the local radio station and was prompted to purchase the book. It is light reading and I got through it quickly, mostly because I wanted to see what happened.
I enjoy books about Arizona."
"I thoroughly enjoyed reading The Ghosted Bridge. Living in the western suburbs of Minneapolis and having visited Sedona, it was fun to be able to identify the settings of this suspense driven novel."
I think the author did an amazing job capturing the voices of her main characters; their dialogue makes them completely real...more than I can say for a lot of best-selling authors. The two separate story lines move along at a good clip and, as a reader, you just can't wait for them to converge. Even though the title and painting on the cover make it no surprise what the climactic event will be, the conclusion of the story is very satisfying."
"The author spread the story out over an eight month period, I believe it was. The chapters went back and forth between the psychic and a woman who had visited her. We got to know the two of them well and also the ghost and her background. I really loved the messages from the ghost as they were brilliantly written."
"I found it really interesting how the characters lives were brought together in this well written book. This book had a very original storyline which has a real tragedy written into a work of fiction. Kristy Abbott, I look forward to reading more of your work. I would recommend this if you are looking for a good book dealing with the supernatural"
"Loved this book. Grabbed and kept my attention from start to finish. Characters were clearly defined and enjoyable. Very well written."