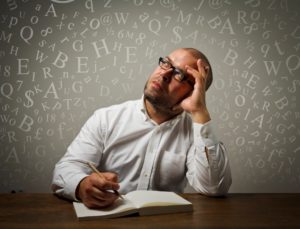 Entering the world of writing can be a bit daunting. I've met dozens of people who say, "I wish I could write a novel."  "I've always wanted to write."  "I could never write a book."
My answer — you can, why don't you and you should!
If you're one of those folks who fancy themselves a writer but are put off by the writing barrier, here are 6 tips to get you moving on the path you were most likely born to tread:
Everyone Has A Story — Find Yours — My USC Masters thesis advisor S.I. Stebel is a genius at helping people find stories, clarify plots, understand characters and get organized.  His book, Double Your Creative Power, is a really helpful handbook on getting your creative process started.  In short he suggests keeping a journal by your bed and writing in it every morning for a few minutes before you get up.
Put everything that comes to mind on the pages but don't read (or edit) those words for a week.  After 7 days, you can browse your notes and look for words, phrases or concepts that leap out at you.  Your subconscious will love this tool for bringing a host of ideas and solutions to the front of your mind.
Give Yourself Some Encouragement — When I was struggling to stay motivated during the writing of my novel, The Ghosted Bridge, I would often go into a library or bookstore to re-energize my passion and belief in myself.  Whether visiting an independent bookstore such as Magers & Quinn in Minneapolis or your local library branch, take a moment to appreciate all those writers that came before you.
I'm pretty sure that 99% of them had doubts along the way, just like you and I.  But they prevailed and so can you.
Take A Class – So you say you don't know what a dramatic arc is and have no idea how to outline a plot?  A writing class may be your perfect answer.  For writers here in the Twin Cities, we've got an invaluable resource in The Loft Literary Center.  Here you can find any number of classes for beginning to advanced writers.
If you're not lucky enough to have access to The Loft, check your local college or university extension catalogs.  You're bound to find a class that will take your writing to the next level.
Invite A Writer To Your Book Club — Have you ever wondered how your favorite writer came up with the theme, characters or plot for their book?  Interested in exploring how writing can fall into a daily routine?  You can learn these details and more when you invite the author of your next selection to your book club meeting.
Understanding the  background behind stories can get your own creative juices flowing, as well.
Form A Writer's Group — My bet is you've got one or two pals who have also tossed around the writing idea.  Get together for regular sessions where you encourage, share and give feedback.  Remember, finding like-minded people can give you the shot of courage to start your writing career.  It can also help you stay accountable to your goal.
Follow Your Favorite Writer — Chances are your favorite writer has a Facebook page, Twitter account or regular blog.  If you want to get in the mind of a writer, spend some time following them.  You'll get a sense of what inspires them and if  you want to write in the same genre, you'll probably glean valuable information on what made them successful.
You'll even have chances to comment, ask questions and tell them how much you like their writing — and that is something every writer, from James Patterson to JK Rowling to that budding local author you know really appreciates.
So carve out some time for yourself, create a playlist of your favorite tunes and give yourself the opportunity to create.  You'll likely discover that you do have a life's theme you want to share, you have a story that needs to be told and you've really got the gumption to put it all together.
Give it a try.  And then share your experience here.  We're rooting for you!